Get The Image From Start To Finish
Mount Sefton
In this video and eBook course you will transform a dull
starting image into a compelling landscape photo of the snow-covered Mount
Sefton below.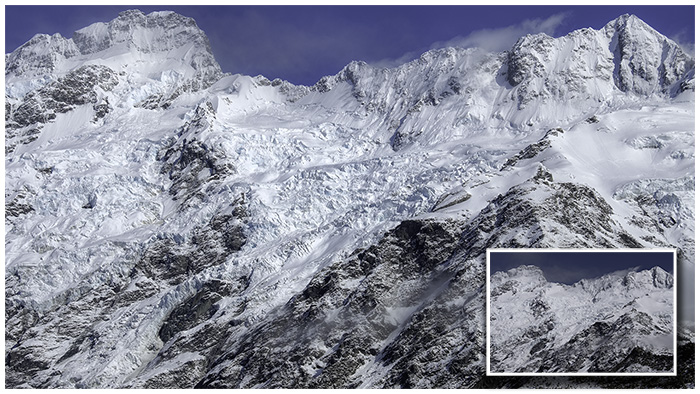 Join me as I demonstrate the simple adjustments you can make in Lightroom and with the Nik Collection to achieve this improvement. I will explain how to make each of the changes and importantly why they are required. You can then take this understanding and apply it to improve your own photos.
So you can follow the action on your own computer, the course includes the starting image as a high-resolution RAW file (using Adobe DNG format). First you will learn how to make the basic corrections in Lightroom. Then you will learn how to further enhance the image using the Nik Collection tools (Color Efex Pro and Viveza).
I've designed the course to be accessible for photographers at all levels. It doesn't matter if you're a beginner or a more experienced photo editor, there's something for everyone. Even if you usually struggle with photo editing, this course will lead you through each of the steps necessary to produce a wonderful finished image.
Also accompanying the video lessons there is a 40-page eBook in PDF format. This describes the processing in full, as well as providing additional information about the image and processing.
What You Will Need
Whilst you can gain a lot from watching the course and reading the accompanying eBook, you really should follow along using the practice file provided. To do this you will require the following software:
Lightroom v5 or later, including Lightroom Classic CC
The Nik Collection (Viveza and Color Efex Pro)
If you don't have the Nik Collection, the course includes a link to obtain a free (older version) from DxO.
Please note, the course also uses Photoshop to demonstrate editing with the Nik Collection, but this is not essential. You can use the Nik Collection tools directly from Lightroom.
Who Is the Course For?
This course is for photographers of all levels but especially beginners who want to improve their photo editing skills. This is not a course to teach all the elements of the software used, but rather is based on editing an example image.